Toy Pet Figures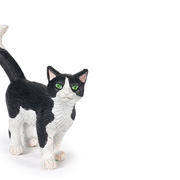 Almost everyone at some time or other has owned a pet, and the latest toy figures of domestic animals are extremely well detailed and painted. Dogs, pupppies, cats and kittens are undoubtedly the most popular, and there's a seemingly endless supply of toy figures of every breed and colour you can imagine. Millions of children collect and display their favourite pets, and with accessories to buy like kennels and baskets, kids can have hours of fun and educational play.
There are other animals that are almost as popular like hamsters, rabbits, mice, rats, guinea pigs and budgies. All made to a constant scale, the domestic animals can be built into a toy pet figure collection that will look good on any bedroom shelf or cabinet. Most good toy shops will sell these figures made by Schleich or Papo, and plenty of websites also have huge ranges. Prices are very reasonable for all these figurines, so it's easy to build an animal collection quite quickly.
Many collectors also enjoy buying these toy pet figures because most of them are so well detailed and have accurate colouring. Apart from these, other suppliers make ranges of fantasy figurines that are mere caricatures of the real thing. Often these have a selection of buildings and playsets to accompany them and help give more play value.
FEATURED RETAILERS

The world's most famous online retailer sells an unparalleled selection of toys.
Visit Amazon Now >>
Other categories in our
Figures
section:
Cowboys & Indians
,
Dinosaurs
,
Dogs
,
Dragons
,
Fantasy
,
Farmyard
,
Horses
,
Kings & Queens
,
Knights & Princesses
,
Pirates
,
Sea Life
,
Soldiers
,
Wild Animals
.