Toy Figure Dragons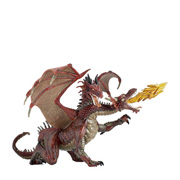 Dragons have long been the subject of books, TV shows and films, with the most popular dragon keeper of all time probably being Hagrid in the Harry Potter series. Such is the popularity of anything to do with dragons that dozens of toy makers are often competing to see which one can come up with the most fantastic toy dragon figure they can! Sometimes highly detailed and often with fire coming out of their mouths, Schleich and Papo make some of the most popular ones. Kids use them to attack knights and princesses in their castles, or use them to ambush parents and siblings.
Even the youngest children are treated to toys dragons, with Tolo, Jaaks Pacific and TY amongst the makers who create soft toy versions for the most junior members of the family. On the other end of the scale, collectors are treated to a number of dragon figures that are only fit for displaying in a glass cabinet. These are usually extremely well crafted and painted.
Films like Lord of The Rings that feature these mythical creatures all help to fuel the interest in collecting toy dragons. The popular image is of a dragon melting everything in sight when he breathes, and this concept is what is so appealing to the little boys and girls that collect them. Some dragons have more than one head or even two bodies for extra fierce looks and action!
FEATURED RETAILERS

The world's most famous online retailer sells an unparalleled selection of toys.
Visit Amazon Now >>
Other categories in our
Figures
section:
Cowboys & Indians
,
Dinosaurs
,
Dogs
,
Fantasy
,
Farmyard
,
Horses
,
Kings & Queens
,
Knights & Princesses
,
Pets
,
Pirates
,
Sea Life
,
Soldiers
,
Wild Animals
.