Toy Figure Knights & Princesses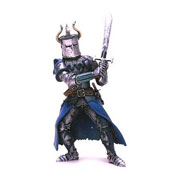 The biggest category of toy figurines is undoubtedly that of toy knights and princesses. The choice of historical periods, characters, armour, dress and horses is enormous, and with at least six companies making these models, children should be able to collect their favourites to create armies, battles or other play scenes. There are many castles and accessories available from companies like Le Toy Van, John Crane or Pintoy. These help to create the realism of the days of knights and princesses who always have to be rescued from imprisonment!
You can also buy jousting sets, machines to attack the castles and horses decorated in different coloured armour and poses. Whilst it may be true that boys mainly collect the knights and girls collect princesses, no play time would be complete without both. Schleich and Papo are the biggest manufacturers of these ranges which are constantly evolving as new characters are created in different postures and colours. Some of the knights look fearsome holding balls and chains, bows, maces, swords and other attacking weapons.
The princesses however are dressed in pretty dresses, some in dancing or walking poses, and can be courted by the handsome and charming princes at the castle ball. Sometimes a wicked witch will make an appearance just to stir up a bit of trouble! The most favoured figures are from the crusader period, and the most colourful are from the Roman Empire.
FEATURED RETAILERS

The world's most famous online retailer sells an unparalleled selection of toys.
Visit Amazon Now >>
Other categories in our
Figures
section:
Cowboys & Indians
,
Dinosaurs
,
Dogs
,
Dragons
,
Fantasy
,
Farmyard
,
Horses
,
Kings & Queens
,
Pets
,
Pirates
,
Sea Life
,
Soldiers
,
Wild Animals
.