Toy Horse Figures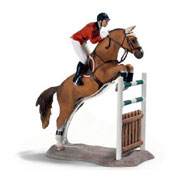 Ask any little girl what her favourite animal is, and probably quite a high proportion would say horses. No children's farm would be complete without a field full of toy horse figures and the choice of them is astonishing. It would be hard for a child to not find exactly the breed or pose they are searching for. Just a small selection of toy horses covers Shetland, Andalusian, Appaloosa, Percheron, Breton, Frisian, Lipizzan or even the humble Exmoor Pony, but the list is almost endless.
Papo and Schleich are the best known main suppliers of these toy horse figures that can be bought in standing and rearing poses, as well as in foal form often lying down. Britains too have an impressive selection of horses, ponies and foals to match all of their farm vehicles and buildings. No play scene would be complete without somewhere to put the horses in for the night, so there's a massive choice of stables, fences or farm buildings to help recreate the perfect environment. Le Toy Van have created an impressive choice of both stables and farm buildings.
Other manufacturers like Breyer also make horse figures in larger scales, sometimes up to 30 cm long. They can also be bought with separate saddles and bridles as well as a selection of riders in dressage or jockey outfits. Children can recreate a show ring for their models complete with jumps and stands for spectators. Many adult collectors also eagerly await the newest releases of horse figures, and many of them have special display cabinets to show them off in.
FEATURED RETAILERS

The world's most famous online retailer sells an unparalleled selection of toys.
Visit Amazon Now >>
Other categories in our
Figures
section:
Cowboys & Indians
,
Dinosaurs
,
Dogs
,
Dragons
,
Fantasy
,
Farmyard
,
Kings & Queens
,
Knights & Princesses
,
Pets
,
Pirates
,
Sea Life
,
Soldiers
,
Wild Animals
.