Toy Figure Soldiers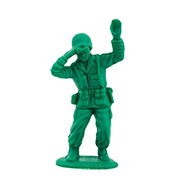 Little boys are fascinated by anything military, and collecting toy soldier figures is very much a part of growing up for millions of them. Ranging from very basic green moulded plastic figures to highly detailed collectors models, the market is huge by any standards. Most kids will remember Andy's army in the first Toy Story film, and many of them will have practised attaching parachutes to their toy soldiers and throwing them down the stairs!
Model kit companies like Airfix make toy soldiers in a variety of scales, and the bigger they get the easier they are to paint for extra realism. Plenty of other firms supply dozens of soldiers packed in bags with often a tank or two thrown in for extra play value. Whilst there are many subjects for the thousands of models on the market, popular categories include WW2 commandos, marines, parachutists, engineers and of course foreign opposing armies of the period like the Germans or Japanese.
Historical toy soldiers are popular too, with Papo and Schleich making some superbly detailed examples such as Romans or figures from the Napoleonic period. The William Britain company is synonymous with metal soldier figures that have been hand painted in specific regiments or armies like the French Foreign Legion. Early examples of these sets are sought after by collectors all over the world, although many of course have been played with and are now in a battered condition.
FEATURED RETAILERS

The world's most famous online retailer sells an unparalleled selection of toys.
Visit Amazon Now >>
Other categories in our
Figures
section:
Cowboys & Indians
,
Dinosaurs
,
Dogs
,
Dragons
,
Fantasy
,
Farmyard
,
Horses
,
Kings & Queens
,
Knights & Princesses
,
Pets
,
Pirates
,
Sea Life
,
Wild Animals
.