Toy Figure Dogs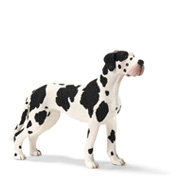 With dogs being the world's most popular pets, it's no wonder that kids are spoilt for choice with a terrific range of toy dog and puppy figures to play with. Master model makers Schleich make a wonderful selection of scale figurines covering many popular breeds. One of the favourites has to be the Golden Retriever which is available as a puppy and an adult, or perhaps others prefer a Dalmatian, St.Bernard, Labrador or German Shepherd.
It's true that many of these delightful figures will be collected and never played with, just like some of their more expensive china competitors. Kids want more however, and accessories like dog kennels, leads, bones and dog baskets can all be purchased as accessories for many of the other toy dog brands like Puppy in my Pocket. These can be played with in a different way by being dressed in fancy outfits or in a series of playsets like hospitals or even beach huts.
Both Britains and Papo include toy dog figures in their farm collections as well as a selection of cat and kitten figures. Children love collecting things, and these highly detailed models are just one example of the choice available to them. Whether you want a toy dog figure of a Bernese Mountain dog, a Husky, Pug or Labrador you can find them all in some of these great toy shops.
FEATURED RETAILERS

The world's most famous online retailer sells an unparalleled selection of toys.
Visit Amazon Now >>
Other categories in our
Figures
section:
Cowboys & Indians
,
Dinosaurs
,
Dragons
,
Fantasy
,
Farmyard
,
Horses
,
Kings & Queens
,
Knights & Princesses
,
Pets
,
Pirates
,
Sea Life
,
Soldiers
,
Wild Animals
.