Diverse Dolls 4 All
No customer reviews yet. Be the first.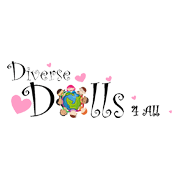 Address
PO Box 329, Bristol, BS16 0BZ
Telephone
07796342492
Website
www.diversedolls4all.co.uk
About
Based in Bristol, Diverse Dolls 4 All is an online shop that specialises in ethnically diverse dolls. They offer some of the best brands of ethnically diverse dolls that are on the market and are continuously adding to their ranges. Categories include African/Caribbean, Asian, Oriental and European dolls.
The owner of Diverse Dolls 4 All struggled to find culturally diverse dolls for his own children - and this inspired him to form Diverse Dolls 4 All. He knew that many other parents, childcare providers, and teachers were having the same difficulty - and it is hoped that Diverse Dolls 4 All will therefore help alleviate this problem and aims to promote multi-culturalism within child play.
All the dolls featured on the website have adhered to Fair Trade principles during the manufacturing process and meet all European health and safety standards. Payment can be made using most credit and debit cards, or via PayPalís safe and secure servers.
Diverse Dolls 4 All is a Bristol toy shop that specialises in ethnic dolls.