Wicked Toys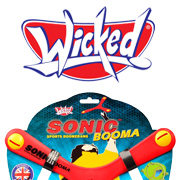 Wicked is a young, vibrant toy company like no other. They bring the very best in proudly British made toys and games to the global toy market.
Selling millions of proudly British-made boomerangs every year, Wicked is the world's largest manufacturer of returning sports boomerangs. The world famous Wicked Booma range features an advanced tri-blade design, ensuring a stable and accurate return flight when thrown as instructed.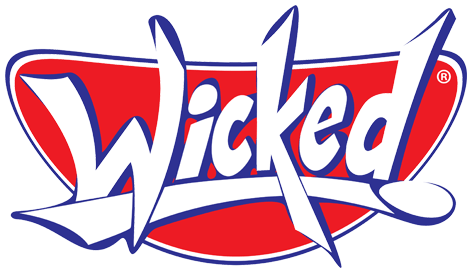 Wicked's proudly British made Sky Rider range boasts the best quality flying discs on the market today. Each has a perfectly balanced, weighted rim for smooth, stable and accurate flights. Ranging from 20g to 175g - the official weight for an Ultimate disc - there's something to suit every age and skill level.
Voted Best New Toy at London Toy Fair, UKick is a playground sensation! Fusing elements of badminton and street football, the aim is to keep UKick off the ground for as long as you can using your hands and feet. Add or remove the weighted trick discs to suit your skill level.
Wicked Micro Riderz are mighty, mini motorbikes that whizz off at super scale speeds of up to 470mph. These pocket powerhouses of speed can travel up to an impressive 60 metres and can perform mind blowing stunts and tricks with ease.
The incredible Socker Bopper range is loved around the world. Providing endless fun for the entire family, Socker Boppers have a double cavity air chamber for extra cushioning making them super safe! Maximise the fun with Socker Swords, Powerbag and Bop Buddy; a great way for kids to burn off all that energy in the comfort of their own home.
RECOMMENDED RETAILERS

Amazon
The world's most famous online retailer sells an unparalleled selection of toys.
Buy Wicked toys now >>

RCToyWorld
Ranges of RC helicopters, planes, boats, buggies, monster trucks and tanks.
Read more about RCToyWorld >>