Firebox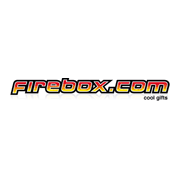 Head Office Address
Firebox House, Ardwell Road, London, SW2 4RT
Website
www.firebox.com
About
Firebox launched in early 1998, as the successor company to Hotbox, whose original invention of a Shot Glass Chess Set, was hugely successful and helped the company achieve rapid initial growth.
The product team at Firebox scour the world looking for the very latest toys, games, gadgets and anything "cool". If an item is quirky, inspirational or just plain fun, they will have it. Their mission is to always be first with the latest hot products that can be launched on their rapidly expanding website. You can sign up to a fortnightly email, sent to over 600,000 addresses, which details all the existing and newest gizmos.
A quick search of their website will reveal 12 different categories of the latest "stuff", and whether its an MP3 player, a radio controlled helicopter, a chocolate fountain or even a retro telephone, Firebox will be able to supply you securely and conveniently from the comfort of your home, through their efficient distribution system.
The head office of Firebox is located in London.