Toy Kitchens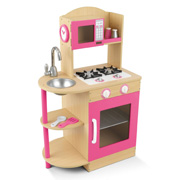 From a hungry child's point of view, the kitchen at home is one of the most important rooms. We all know that kids love to copy everything that their mums and dads do, and cooking is no exception. Toy manufacturers realise this important part of role play and make a stunning selection of toy kitchens for children to play with. Almost every kitchen appliance can be bought as a toy including cookers, fridges, sinks, freezers and dishwashers.
Modern manufacturing techniques and materials means that a high level of realism can be obtained, and that a Casdon Hotpoint washing machine for example, looks just like the real thing. Toy kitchens can be assembled from a series of these separate appliances, but some toy makers like Little Tikes, Smoby and Step2 have created virtual toy kitchen sets that contain almost every appliance a child could want in order to copy their parents.
If wood is your preferred construction material, then Kidkraft, John Crane, Pintoy or Janod are the makers to look at. Soft and warm to the touch, wooden toy kitchens are a bit more expensive than their plastic counterparts. Most of them have a range of accessories like pots, pans and cooking utensils to go with them, and are robust enough to be handed on to the next generation. No toy kitchen would be complete without a toy mixer, toy toaster, toy kettle or a toy microwave, and these can all be added to the collection as needed.
FEATURED RETAILERS

The world's most famous online retailer sells an unparalleled selection of toys.
Visit Amazon Now >>
Other categories in our
Role Play
section:
BBQs
,
Cash Registers
,
Cookers
,
Food Mixers
,
Ironing Boards
,
Kettles
,
Lawnmowers
,
Microwaves
,
Play Food
,
Play Shops
,
Shopping Trolleys
,
Supermarkets
,
Toasters
,
Vacuum Cleaners
,
Washing Machines
,
Workbenches
.