Children's Toy Toasters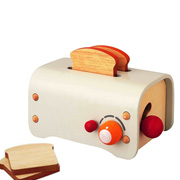 Along with toy kettles, microwave ovens and food mixers, the toy toaster is undoubtedly one of the top selling items in these ranges of role play toys that are based around commonly used household appliances. The choice of these toy toasters is simply amazing with almost as many to pick from as you can see on a visit to your local electrical superstore.
Varying in sophistication, HTIís Smart brand models have four slots, a clockwork timer, an indicator light and even pretend toast! Wooden toy toasters are some of the most trendy though, with Kidkraft, Bigjigs, Le Toy Van and Plan Toys all having some lovely models in a variety of bright or pastel colours with various knobs and buttons to keep the kids amused.
Plastic toy toasters from Theo Klein, Learning Resources and Kriya also have a range of realistic functions, and the clever people at Casdon make their models look just like the real thing from companies like Breville. Whatever toy toaster you buy, thereís no doubt that these role play toys are good value for money and fulfil a great function in part of your childís education.
FEATURED RETAILERS

The world's most famous online retailer sells an unparalleled selection of toys.
Visit Amazon Now >>
Other categories in our
Role Play
section:
BBQs
,
Cash Registers
,
Cookers
,
Food Mixers
,
Ironing Boards
,
Kettles
,
Kitchens
,
Lawnmowers
,
Microwaves
,
Play Food
,
Play Shops
,
Shopping Trolleys
,
Supermarkets
,
Vacuum Cleaners
,
Washing Machines
,
Workbenches
.