Children's Toy Lawn Mowers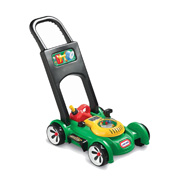 Popular toy companies like Little Tikes, Fisher Price and Ecoiffier all make children's toy lawn mowers so there is no shortage of choice. With many of them looking remarkably realistic, some of the more expensive models even make electronic and mechanical sounds. Others have bubbles blowing out of them as they move along for even greater appeal!
Play lawn mowers make a perfect addition to a child's toy gardening equipment but are equally as good as standalone items. There certainly aren't many products that are as effective as encouraging kids outside and getting them used to enjoying active outdoor play. Whether they want to follow mum and dad around the garden or choose to mow their own little patch of grass, they'll be getting plenty of exercise without even realising it!
When shopping for toy lawn mowers, make sure you pay attention to the surfaces they are designed to be used on. Some of the cheaper models will be fine for pretend mowing around the house but will be no good when taken outside and used on rough surfaces.
FEATURED RETAILERS

The world's most famous online retailer sells an unparalleled selection of toys.
Visit Amazon Now >>
Other categories in our
Role Play
section:
BBQs
,
Cash Registers
,
Cookers
,
Food Mixers
,
Ironing Boards
,
Kettles
,
Kitchens
,
Microwaves
,
Play Food
,
Play Shops
,
Shopping Trolleys
,
Supermarkets
,
Toasters
,
Vacuum Cleaners
,
Washing Machines
,
Workbenches
.