Children's Toy Microwave Ovens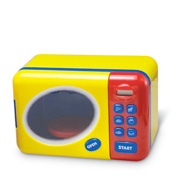 With most homes in the UK owning a microwave oven, itís no surprise that lots of toy makers include a toy version in their role play ranges. Wooden toy microwaves are amongst the most popular with Plan Toys, Wonderworld, Voila, Legler and Santoys all making them in their own unique styles. Most include opening doors and rotary control buttons whilst some even have a battery-operated turntable plate inside complete with a light.
For even extra realism, Casdon make a superb children's version of a real Delonghi model that even comes with a supply of imitation food. Role play toys are so important for a childís development, and items like a toy microwave oven can be a great investment by parents, not only as value for money but excellent play value as well.
Some larger toy kitchen ranges may include a toy microwave oven as part of the set although thereís no shortage of standalone models to choose from. German manufacturer Theo Klein is one of the best known makers of toy household items, and microwave ovens are no exception.
FEATURED RETAILERS

The world's most famous online retailer sells an unparalleled selection of toys.
Visit Amazon Now >>
Other categories in our
Role Play
section:
BBQs
,
Cash Registers
,
Cookers
,
Food Mixers
,
Ironing Boards
,
Kettles
,
Kitchens
,
Lawnmowers
,
Play Food
,
Play Shops
,
Shopping Trolleys
,
Supermarkets
,
Toasters
,
Vacuum Cleaners
,
Washing Machines
,
Workbenches
.