Children's Pretend & Play Shops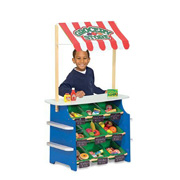 What little girls and boys donít love pretend shopping? Not many we would guess from the extraordinary number of products available to support this passion for a bit of pretend retail therapy! Starting with the basic shopping basket in metal or plastic, right through to a huge wooden or blow moulded plastic pretend shop, the choice is enormous. Whilst many play shops are geared towards children actually using them, some are miniature doll sized shops and come complete with mini figures, food and accessories like a cash register.
If kids want a pretend market stall, sweet shop, clothes shop, grocery store or even a toy shop, one of the big brand manufacturers are likely to make it. Smoby, Little Tikes and Worlds Apart all make these products in fabric, plastic or wood. Parents can almost guarantee when friends come to play, pretend shopping will be one of the major attractions.
No make believe shopping trip would be complete without a shopping trolley to race up and down the pretend shopping aisles buying food, clothes, toys and special treats like cakes or sweets. Shopping can take many forms, and whether itís a trip to the make believe supermarket, or a visit to the pretend garage to fill the car up with petrol, plenty of toy manufacturers can supply the equipment to set up a pretend shop.
FEATURED RETAILERS

The world's most famous online retailer sells an unparalleled selection of toys.
Visit Amazon Now >>
Other categories in our
Role Play
section:
BBQs
,
Cash Registers
,
Cookers
,
Food Mixers
,
Ironing Boards
,
Kettles
,
Kitchens
,
Lawnmowers
,
Microwaves
,
Play Food
,
Shopping Trolleys
,
Supermarkets
,
Toasters
,
Vacuum Cleaners
,
Washing Machines
,
Workbenches
.