Toy Shopping Trolleys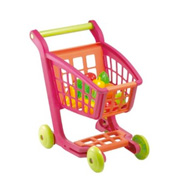 Whatever we think of supermarkets, we canít go shopping in one without a shopping trolley or basket. Some supermarket chains even supply small versions for the kids to push around whilst parents are filling up the real thing, and toy suppliers have excelled themselves in producing many different toy trolleys to help kids at the all important role play time.
Santoys and Haba make wonderful wooden trolleys for the very youngest kids to push around at home. Children will have no problem filling up their trolley with all sorts of toys, clothes and books. With such a big choice of pretend fruit, vegetables, sandwiches and sweets available in toy shops, the trolley will soon start to overflow. Many versions are sold complete with pretend tins of baked beans or tomatoes as well as make believe cereal packets and crisps.
No trip to the supermarket would be complete without some recycling bags to load up all the shopping when youíve finished at the checkout, and these can be bought in canvas or plastic styles. Some of the best toy shopping trolleys are made by Melissa and Doug or Casdon, and several of them have a metal frame for extra strength and durability.
FEATURED RETAILERS

The world's most famous online retailer sells an unparalleled selection of toys.
Visit Amazon Now >>
Other categories in our
Role Play
section:
BBQs
,
Cash Registers
,
Cookers
,
Food Mixers
,
Ironing Boards
,
Kettles
,
Kitchens
,
Lawnmowers
,
Microwaves
,
Play Food
,
Play Shops
,
Supermarkets
,
Toasters
,
Vacuum Cleaners
,
Washing Machines
,
Workbenches
.