Children's Toy BBQs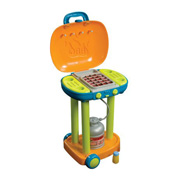 Here at Toy Shop UK, dusting off the BBQ and firing it up for the first time in the year is a joyous occasion. Perhaps we love it so much because our climate means we only get limited opportunies to indulge ourselves. Luckily there's no such problem for children, as the large choice of toy BBQs means they can practice their barbecuing skills whenever they like!
Toy BBQs are available in a huge variety of shapes, colours and sizes. From the small, throwaway ones to the huge American-style gas barbecues, companies such as Pintoy and Little Tikes make some superb ranges in both wood and plastic. Perhaps even more exciting that the BBQ itself is the massive range of play food that's available. Whether your food of choice is burgers, mackerel, steak or chicken wings, you'll be able to find beautiful wooden versions that complement any role play BBQ brilliantly.
Apart from it just being plain good fun to play chef for the day, role play barbecues can have an educational benefit too. The various different pretend foods are a great way to learn about nutrition and the types of food that people eat all over the world. Even flipping pretend burgers over can help with dexterity and coordination. This should help to ensure that when your child gets a little bit older they'll be an absolute pro on the real barbecue!
FEATURED RETAILERS

The world's most famous online retailer sells an unparalleled selection of toys.
Visit Amazon Now >>
Other categories in our
Role Play
section:
Cash Registers
,
Cookers
,
Food Mixers
,
Ironing Boards
,
Kettles
,
Kitchens
,
Lawnmowers
,
Microwaves
,
Play Food
,
Play Shops
,
Shopping Trolleys
,
Supermarkets
,
Toasters
,
Vacuum Cleaners
,
Washing Machines
,
Workbenches
.