Toy Supermarkets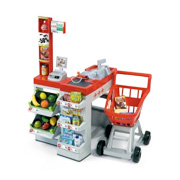 Love them or loathe them, most shoppers regularly visit a supermarket for their main weekly shop, and the kids are often taken along as well. No wonder that toy suppliers make a whole range of excellent toy supermarket equipment for children to role play when they get home. A toy shopping trolley or basket is the first requirement, and once thatís loaded up with pretend food the real fun starts!
Whether you're the shopper or the checkout assistant, thereís a great selection of supermarket toys to be bought, from a standalone working conveyor belt to an electronic cash register with working receipt roll, calculator and change drawer. Firms like Smoby and Casdon make some terrific equipment for toy supermarkets, all of which have great educational and play value especially helping to teach kids to learn all about exchanging money for goods.
Popular brands like Playmobil and Lego make versions of toy supermarkets, and whilst these are in a much smaller scale they usually come complete with small shopper figures to move around the store. Such is the interest in shopping that even jigsaw and games manufacturers like Orchard Toys and Gibsons make puzzles and games that are based on toy supermarkets and shops.
FEATURED RETAILERS

The world's most famous online retailer sells an unparalleled selection of toys.
Visit Amazon Now >>
Other categories in our
Role Play
section:
BBQs
,
Cash Registers
,
Cookers
,
Food Mixers
,
Ironing Boards
,
Kettles
,
Kitchens
,
Lawnmowers
,
Microwaves
,
Play Food
,
Play Shops
,
Shopping Trolleys
,
Toasters
,
Vacuum Cleaners
,
Washing Machines
,
Workbenches
.