Carousel Toys
No customer reviews yet. Be the first.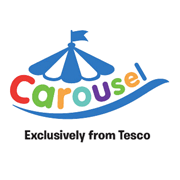 Address
PO Box 73, Baird Avenue, Dryburgh Industrial Estate, Dundee, DD1 9NF
Telephone
0845 600 4411
About
With a name that evokes childhood memories of seaside merry-go-rounds, donkey rides, candy floss and coconut shies, the introduction of Tesco's own-brand Carousel range is actually a rather aggressive move to take a bigger slice of the UK's lucrative toy market.
Of course, own-brand toys are nothing new. Argos famously acquired the Chad Valley brand from Woolworth's administrators back in 2009. For a company the size of Tesco however, soft launching a near 100-product range just a couple of months before Christmas 2011 certainly raised a few eyebrows.

The range itself is geared towards the preschool market, with the plastic toys consisting of playsets, role-play toys, construction vehicles and a few electronic goodies too. The wooden part of the range offers more of the same, with some garages, dolls houses, train sets and walkers all made from "sustainably sourced wood".
Tesco has been particularly keen to point out the green credentials of the Carousel toy packaging. Described as "simple and friendly", many of the products in the Carousel range come in packaging that doesn't make use of wires, screws or plastic.
Carousel Toys is a Dundee toy shop that specialises in baby & toddler toys.