Fairy Toys and Dressing Up Costumes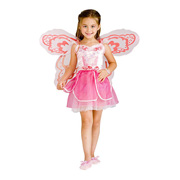 Whilst every small boy or girl loves dressing up at parties in hundreds of different themed outfits, thereís no doubt that little girls love being a fairy the most! Delicate fairy costumes in multi-coloured or plain lightweight materials match perfectly together with dozens of different accessories like wands, wings, tiaras and ribbons. Girls can complete the ultimate fairy princess look with bracelets, necklaces and perhaps a liberal sprinkling of magic dust.
The fairy theme extends far wider than just dressing up costumes. Girls are spoilt for choice with role-play fairy castles and other playsets, often complete with a set of figurines. Whilst the boys will be off fighting battles with guns and swords, girls can even take shelter in a fairy playhouse or tent and enjoy making their fairy themed jigsaws, or playing fairy-themed card games.
Parents organising a party will be spolit for choice with fairy-themed invitations, party bags, tableware and gift wrap - and we're sure that fairy cakes will be on the tea menu! As if all thatís not enough, bedrooms can be decorated with themed wallpaper, bed coverings, pillows, cushions and lamps. A number of specialist fairy shops are now online, and we've included links to some of the best ones below.
FEATURED RETAILERS

The world's most famous online retailer sells an unparalleled selection of toys.
Visit Amazon Now >>

A specialist online gift shop selling all manner of fairy themed toys.
Visit Fairies & Friends Now >>