Talking Little Charley Bear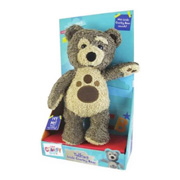 From as early as mid-2010, here at Toy Shop UK we knew that Little Charley Bear was going to be a hit with youngsters. As the various toy licences were snapped up, we've kept track of happenings in the world of Little Charley. We've been particularly enthusiastic about the various plush toys produced by Vivid Imaginations - and the Talking Little Charley Bear is one of the showcase products in this range.
With a celebrity narrator in the form of comic actor, James Corden, Little Charley Bear has caught the attention of the UK press - and it's no great surprise that Vivid have upheld the current status quo of launching talking versions of the show's main character. This Little Charley soft toy is complemented by a great selection of other products - but we think that kids will love nothing more than being able to make their little Charley toy repeat some of his most famous catchphrases from the show.
RECOMMENDED RETAILERS

Amazon
The world's most famous online retailer sells an unparalleled selection of toys.
Buy Talking Little Charley Bear now >>