All Jigsaw Puzzles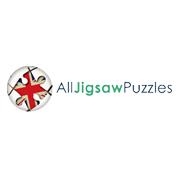 Head Office Address
Airport House, King's Mill Lane, South Nutfield, Surrey, RH1 5JY
Website
www.alljigsawpuzzles.co.uk
About
All Jigsaw Puzzles is a specialist jigsaw company that prides itself on selling more jigsaws online than anyone else. Their ranges are huge, and it would be hard not to find what you are looking for. They have over 1350 popular and hard to find jigsaws in stock, and these range from 4 pieces for the very young, to a challenging 32,000 pieces for the expert puzzler!
Puzzle boards and jig rolls are 'must have' accessories for jigsaw fans, as they enable you to store and carry unfinished puzzles. All Jigsaw Puzzles have a great selection of other jigsaw accessories as well as the amazing 3D Puzzle Balls. These are literally ball-shaped and are made from injection moulded plastic pieces. They sell jigsaws from all the popular makers like Gibsons, Ravensburger and Jumbo, and can offer their customers jigsaws in almost any imaginable category of scene or theme.
You can send All Jigsaw Puzzles your favourite picture and they will make a personalised jigsaw from it. Maybe you would like a jigsaw of The Times front page on the day you were born – this can be done too. You can order with confidence from this company, who sell at very competitive prices and have low freight costs.
The head office of All Jigsaw Puzzles is located in Surrey.