Jigsaw Puzzles for Teenagers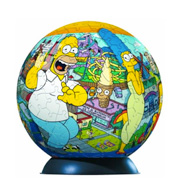 Whilst jigsaw puzzles for teenagers may seem pretty uncool, in fact nothing could be further from the truth. Ravensburger turned the puzzle market on its head when they produced their round, ball-shaped jigsaw puzzles with subjects like the world globe or forest and ocean scenes. Puzzles for this age group suddenly became trendy again. The introduction of jigsaws around favourite film or TV characters has proved popular too, and scenes from films like Spiderman, Harry Potter and Star Wars are always favourites.
Another innovative introduction for teenagers and adults has been Jumbo's 'Wasgij' ranges. This is actually the word 'Jigsaw' spelt backwards, and the picture on the box only provides an idea of the final solution. What are the people in the clue actually looking at! This novel idea has been extended to the Wasgij Mystery series where the puzzler has to imagine what will happen next having looked at the picture supplied on the box front.
Girls especially still love doing jigsaws in their teenage years, and whilst Barbie or Bratz may be favourite subjects, there's no shortage of interesting landscape scenes, castles or underwater pictures to fire their imagination. Whatever teenagers want, someone is bound to make it. This could even be puzzles of their favourite band or rock star.
FEATURED RETAILERS

The world's most famous online retailer sells an unparalleled selection of toys.
Visit Amazon Now >>

Huge choice of jigsaws for babies, children or a seasoned jigsaw fanatic.
Visit All Jigsaw Puzzles Now >>