Antique Toy Dealers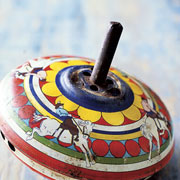 In order for a toy to be regarded as antique, it would generally be considered at least 50 years old, and by some people to be nearer 100 or more. Antique toys, by nature of their age are collectable, partly because they give reference to a time gone by, but also because they are rare, beautiful, well made and preserved, and more often than not can be worth a lot of money in good condition.
Antique toys are different to vintage toys or even retro toys, mainly because of their older age. In fact, many can only now be found in museums or occasionally for sale on the websites of specialist antique toy dealers. Early examples of antique toy trains, porcelain dolls, teddy bears, dolls houses and lead soldiers rarely come up for sale, but when they are listed in an auction there is generally considerable interest, especially if they are in a near perfect state.
Many antique toys are made of materials that do not survive well if they are not kept in the right conditions. This is especially true of wooden antique toys that are subject to rot, woodworm or fungus if storage has been in a damp and cold place. Objects made of glass or china can easily be broken and all these factors combine to make most of the surviving examples even rarer and more valuable.