Ackerman International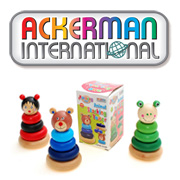 Based in Essex, Ackerman International has been established since the early 1900s. The company specialises in importing a huge range of toys and associated products which they sell to wholesalers and retailers all over the UK and Europe. These include the smallest independent retailers up to the largest department store chains.
The wooden toy selection offered by Ackerman is crammed full of colourful favourites including textured and animal puzzles, skittles, trains, vehicles and building blocks. The retro toys section is particularly popular with reproduction toys that adults remember from their own childhood.
Today's children that are brought up surrounded by electronic devices still love the play value that many of these toys offer. Pocket money toys are always popular purchases, and Ackerman has a stunning selection that sells all year round.

By continually visiting foreign trade exhibitions and factories, the experienced buying team are always on the look-out for the latest toys and crazes demanded by their customers. Buying in large quantities means the company can pass on the cost savings, thereby providing excellent service and value.
Many larger retailers take advantage of the in-house design team that offers unique packaging solutions to match corporate branding. Ackerman International can also create individual carton sizes as well provide mail order boxing and individual product sourcing. They offer outstanding service to all of their customers both before and after deliveries are completed.
RECOMMENDED CATEGORIES

Children's imaginations soar with the finest in creative toys.
Visit the Arts & Crafts category >>

A constant flow of new toys that are good for your child's development.
Visit the Educational category >>

Toy shops have large sections devoted to low-value pocket money toys.
Visit the Pocket Money category >>

Find collectable Star Wars toys, classic games like Rubik's Cube and much more at these shops.
Visit the Retro category >>

Many retailers specialise in nothing other than toys made from wood.
Visit the Wooden category >>