Action Climbing Frames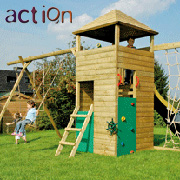 As the first outdoor plaything manufacturer to offer their customers the option of designing their own childrenís climbing frame using their unique Action 3D computer software, Action climbing frames can also offer a wide selection of complete units that are supplied inclusive of all fittings and detailed instructions.
Designed to exceed all current safety standards for garden use climbing equipment, Action climbing frames even offer a 10 year guarantee against insect infestation or rot on all of their timber parts. Timber blends so well into most garden environments, and if treated correctly is as strong and as long lasting as their steel made competitors. A huge range of accessories means that all Action climbing frames can be customised to a customerís personal requirements.
Thereís a choice of heavy duty slides, baby or child swing seats, rope ladders and gym rings as well as twizzlers and monkey seats for extra fun! Action can even supply a choice of play bark or rubber matting for soft landings underneath the play equipment. Available in a large selection of retailers around the UK, Action Climbing Frames are well designed, safe and offer excellent play value.
RECOMMENDED RETAILERS

Adventure Zone
Provides a great range of climbing frames as well as other garden toys.
Read more about Adventure Zone >>