Almost Naked Animals Toys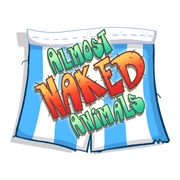 Known as a pretty crazy kids TV show, Almost Naked Animals receives fantastic audience figures each time it is shown on CITV and ITV1. With the all animal cast being shaved and only dressed in their underwear, viewers initially did a double take at the sheer audacity of the characters!
Those clever people at Character Options thought the characters would translate into some brilliant Almost Naked Animals toys. After gaining the master toy licence for construction themes, they launched their first toys in Autumn 2012.
Talking plush characters from the show were very popular products, with US firm Underground Toys awarded the licence to create some innovative soft toys. Another US based firm, Basic Fun, created handheld electronic games, play balls and basic soft toys.
There was huge demand for Almost Naked Animals soft toys, collectable figures and action figures as well as games, puzzles, playsets and DVDs. Kids were clamouring for anything to do with Howie, the Banana Cabana manager, and all his friends like Batty, Bunny, Duck and Octo - not forgetting Narwhal, Sloth, Poodle and Piggy. Kids can expect to see many more characters being added as the show develops.
RECOMMENDED RETAILERS

Amazon
The world's most famous online retailer sells an unparalleled selection of toys.
Buy Almost Naked Animals toys now >>