App Toyz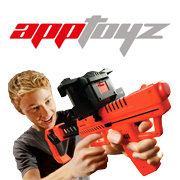 Once upon a time, someone invented the mobile phone... then someone else invented the smart phone... then Apple invented the iPhone, and the world changed. Within a very short space of time millions of apps were available, and it didn't take long for Apptoyz to be born... and the toy industry changed.
Whilst parents may be reluctant to let their small son load their iPhone into the appBlaster and use it to blow the house to pieces, there's no doubt that iPhone or iTouch-controlled products are here to stay. Created by UK company Media Sauce, Apptoyz research and develop new products at breathtaking speed. Control the appCopter indoor helicopter from your armchair, or go head to head with mates as you compete with the appRacer around the office! Hold the appWheel and get an even better experience whilst you play anyone of a number of your favourite driving games.

With loads of Apptoyz products constantly in development, we can expect to see their iPhone-controlled toys and gifts take on even higher levels of sophistication and fun. Boys toys certainly, but for almost any age!
RECOMMENDED RETAILERS

Amazon
The world's most famous online retailer sells an unparalleled selection of toys.
Buy App Toyz now >>