Baby Jake Toys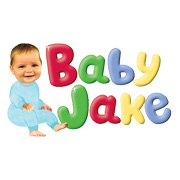 About Baby Jake
With all the makings of a successful preschool brand, Baby Jake is a mixed animation/live action children's TV show from CBeebies. The incomprehensible ramblings of Jake (the star of the show!) are translated by Isaac, Jake's six year old brother, ably assisted by several other colourful characters.
By focussing on the relationship, love and activity between siblings, Baby Jake is an appealing series for all the youngest members of the family. With Vivid Imaginations on board as the master toy licence holder, Baby Jake toys include Nibbles the Rabbit, Sydney the Monkey, Pengy Quin and the amazing Hamsternauts!
Showcase Toys
Talking Baby Jake is the showcase toy in the range. Featuring no less than twelve different phrases from the show, children just have to squeeze his tummy gently to hear 'Yacki Yacki Yoggi' and more of his ramblings. This toy is also supported by a Bumpety Bump Tractor whose funnel moves up and down as it's pushed along.
DISTRIBUTORS

RECOMMENDED RETAILERS

Amazon
The world's most famous online retailer sells an unparalleled selection of toys.
Buy Baby Jake toys now >>

eBay Toys
The 'World's Online Marketplace' offers an unprecedented selection of toys.
Buy Baby Jake toys now >>