Bananas in Pyjamas Toys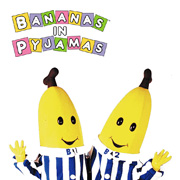 Since being launched way back in 1992, the Bananas in Pyjamas TV show has been aired in over seventy countries, making it one of Australia's most successful exports. Loved by preschoolers (and a few mums and dads) the world over, over five million Bananas in Pyjamas books have been sold since the shows creation, as well as countless DVDs, music CDs and dressing up outfits.
Bananas in Pyjamas toys have been notoriously hard to track down in the UK, much to the dismay of parents who have been nagged by their little ones to get a plush figure or playset featuring the characters from their favourite show. The master toymaker, Tomy, did release a range of toys in 1996 - and some of these can still be tracked down on eBay from time to time.
Colouring books, jigsaw puzzles and soft Bananas in Pyjamas toys can all be hunted down if required, but at the moment you can only really expect to get your hands on DVDs, CDs and some Bananas in Pyjamas dressing up costumes if you're looking for mint quality merchandise from UK-based retailers.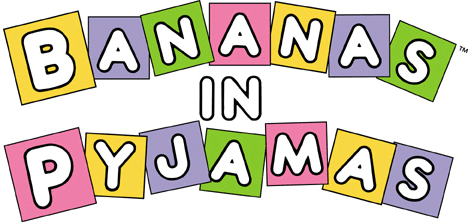 Famous toy manufacturer Golden Bear snapped up the rights to make a range of Bananas in Pyjamas toys that were released in July 2012. The showcase product is the two-storey Fun House Playset that opens up to show several different play areas. Featuring two articulated B1 and B2 character figures, clever sensors in the staircase play the show's theme tune as they walk to the ground floor. Plenty of removable pieces of furniture include a chair, sofa, kitchen table with two stools, and two beds in the first floor bedroom.
Golden Bear's B1 and B2 Bedtime Buddies are perfect companions for all the show's fans. Not only are they soft and cuddly, but a sound chip embedded inside them can create sleeping 'snoring' sounds as well as lots of fun phrases and a theme tune. Slightly smaller versions of Bananas in Pyjamas characters also have talking features, and a mini soft toy is the perfect travelling companion. Kids also love the Mini Sketchy Fun keyrings, and everyone will want the Bananas in Pyjamas Dominoes set that comes in a smart wooden box.
Jumbo Games announced that they too were getting in on the Bananas in Pyjamas action by producing a 35-piece puzzle assortment and a 4-in-1 shaped puzzle.
HERO PRODUCTS

RECOMMENDED RETAILERS

Amazon
The world's most famous online retailer sells an unparalleled selection of toys.
Buy Bananas in Pyjamas toys now >>

eBay Toys
The 'World's Online Marketplace' offers an unprecedented selection of toys.
Buy Bananas in Pyjamas toys now >>