Barefoot Books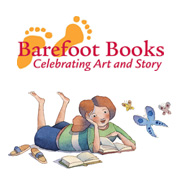 Barefoot Books was started in the early 1990s, by two Mums who had a vision to publish children's books with a difference. Written by many diverse authors, all Barefoot books have at least one of five explicit core values that sum up the way the company thinks and is run.
The first of these is helping children to Imagine. By creative writing, children are encouraged to enter the magical world of make believe by expanding their imaginations and remembering that childhood is a fun time. Secondly comes Explore, where Barefoot books help children to visit imaginary planets, cultures or even themselves. Create comes third, where kids will read stories with meaning, and also will have some beautiful pictures to appreciate. Fourth in the Barefoot books philosophy is Connect, which are books with stories that help children bond with parents and are encouraged to become members of a great global community.
Last, but not least, Give Back is the fifth Barefoot books value. They support other organisations that are sympathetic to letting children preserve the earth for many generations in the future. Covering all ages, Barefoot books have so many categories including adventure, art, fairy tales, monsters and even books with accompanying CDs.
RECOMMENDED RETAILERS

Amazon
The world's most famous online retailer sells an unparalleled selection of toys.
Buy Barefoot Books now >>