Bead Bazaar Toys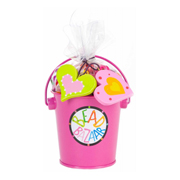 Bead Bazaar toys and craft kits are amongst the best bead kits on the market, and the company ensures that all their products are environmentally friendly as well as unique and of high quality. We particularly like the Bead Bazaar toys set in a butterfly shaped frame – this has colour coordinated beads, shapes and cords to make pendants, and includes a lovely reusable bag.
Other Bead Bazaar sets are colour-themed in pink and blue, and also come in carrying bags that can be used over and over again. If customers prefer, they can buy a painted wooden chest with a hinged lid in which to store all those beautifully made bracelets, necklaces and other trinkets.
Bead Bazaar toys give little girls hours of fun choosing colours and designs, and then making their ideal pieces of jewellery. Not only does it teach them dexterity handling the small pieces, but also taps into their creative and artistic skills. Some Bead Bazaar sets include glass beads as well as the more familiar wooden or plastic ones, giving their customers an even greater choice of finishes and style.
RECOMMENDED RETAILERS

Amazon
The world's most famous online retailer sells an unparalleled selection of toys.
Buy Bead Bazaar toys now >>