Bigjigs Rail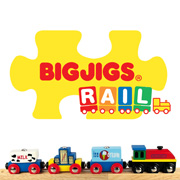 The Bigjigs Rail system is just one part of the Bigjigs toy company who produces wonderful ranges of toys from jewellery to jigsaws, games to gifts and everything in between. Both little boys and girls love playing with wooden trains that they can push along a track and make up hundreds of adventures as they go. The Bigjigs wooden railway system has everything the kids could want including a selection of fantastic complete railway sets with turntables, bridges, crossovers and railway sheds, as well as other buildings, trees and little wooden people.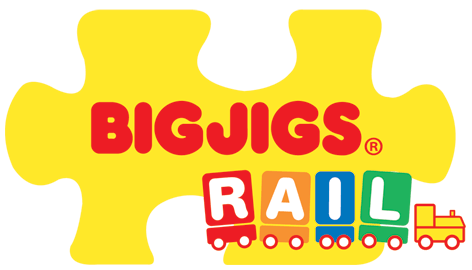 Compatible with Bigjigs Road and similar leading systems from other leading manufacturers, Bigjigs Rail has a huge selection of track pieces, engines and wagons, some with a choice of letters mounted on top that can be used to spell a childís name when being pushed around. Thereís also a superb selection of railway accessories available like stations, footbridges, construction cranes, loaders and even a farmyard crossing to help get the cows across the track!
The smooth wooden edges and attractive colours make Bigjigs Rail system an instant hit with the kids. With points, t-junctions, diamond crossings and a selection of curves and straights, almost any permutation of railway layouts can easily be constructed. A battery operated train version can pull quite long loads, and an engine repair shed makes sure the Bigjigs trains arenít out of action for long!
HERO PRODUCTS
DISTRIBUTORS

RECOMMENDED RETAILERS

Amazon
The world's most famous online retailer sells an unparalleled selection of toys.
Buy Bigjigs Rail toys now >>

Little Bundles
Terrific ranges of children's engaging wooden toys and traditional games.
Read more about Little Bundles >>