Bontempi Toys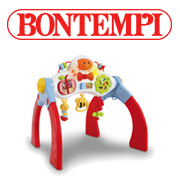 Since the early 1960s when Italian company Bontempi was formed, they have developed their product ranges to include not only keyboards, but toy versions of drum sets, guitars, microphones and xylophones as well as wind instruments like saxophones, clarinets and trumpets. As one of the best known manufacturers of low priced musical instruments, they are easily found in one of the numerous Bontempi shops situated all over the UK - both traditional high street shops and internet retailers.
The Bontempi toy musical instrument ranges also includes items specifically made for girls – the iGirl selection - and other brands like Bob the Builder and Spiderman increases the appeal of these popular ranges. Whilst the products are all classed as toys, they are all real working instruments that let kids explore their imagination and help to foster the beginnings of musical appreciation.
Bontempi guitars for example are made in both acoustic and electronic versions and also include styles with High School Musical branding. Whilst the Bontempi keyboards are now all electronic the original chord organs are now just museum pieces. Bontempi manufactures high quality and excellent value for money musical instruments, and is the undoubted leader in its field.
RECOMMENDED RETAILERS

Amazon
The world's most famous online retailer sells an unparalleled selection of toys.
Buy Bontempi toys now >>