Bosch Toys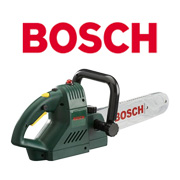 Bosch is a huge German company that has concerns in many sectors including the automotive, industrial and building industries. Many people however, associate the name most closely with tools and DIY equipment - and many households throughout the UK have at least one Bosch tool in the garage. It's no great surprise therefore, that children have wanted to emulate their mum and dad by having their very own Bosch tool, albeit a toy one!
Casual viewers would be forgiven for thinking that some of the Bosch toys available are in fact the real thing. Some of them are so realistic that you wouldn't believe that they are actually harmless! The Bosch toy drills, chainsaws and hedge trimmers are particularly lifelike - and their workbenches and tool kits are among the best available.
Bosch's toy tools make excellent additions to any young builder's armoury and these kind of role play toys can provide hours and hours of open-ended play. Many of the Bosch toys are very reasonably priced and also serve a useful educational purpose. These kind of toys encourage children to think for themselves and to problem-solve as they go along.
RECOMMENDED RETAILERS

Amazon
The world's most famous online retailer sells an unparalleled selection of toys.
Buy Bosch toys now >>