Britax Shops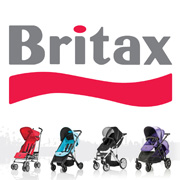 Best known as world leaders in children's car safety seats, Britax makes a large selection solutions for any age child, with a versatile fitting system that can be used in almost every make of vehicle on the roads. Britax car seats are all fitted into vehicles using the international ISOFIX system - this was not only developed and designed by Britax, but has been a mandatory feature of every new car built since 2006.
As a child grows, their car seat requirements alter considerably, so Britax car seats are divided into three age groups for maximum safety and comfort. Ranging from birth to twelve years of age, there's sure to be a model to suit every possibility. Great features like 5 point safety harnesses, side impact protection, removable and washable covers and many more attributes help to make Britax car seats the market leaders.
Their designers have also come up with some terrific Britax pushchairs which are available in either three or four wheel models. Featuring lightweight aluminium chassis, multi position reclining seats, shopping basket and rain hoods, these Britax pushchairs are some of the best on the market.
RECOMMENDED RETAILERS

Amazon
The world's most famous online retailer sells an unparalleled selection of toys.
Buy Britax products now >>