Lite Brix Toys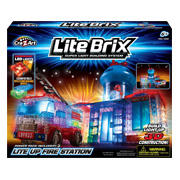 Launched in 2012 by US toy company Cra-Z-Art, their latest products known as Lite Brix are set to arrive in the UK during 2013. Essentially a standard building brick system, the key feature is tiny LED lights built into some of the bricks. These connect with other translucent bricks, and through switching on a battery pack the entire child's construction masterpiece comes alive with different coloured lights!
Lite Brix model sets include a racing car, laser helicopter, hot hog motorcycle and several larger sets including the impressive Star Shuttle and Launcher. This includes a launch pad, rocket and plane as well as two mini figure astronauts that fit inside the plane for the ride of their life! Decals can be added to all models for extra realism and effect.
Larry Rosen the founder of Cra-Z-Art said: "Children can now build bigger, brighter and better with Lite Brix. Children love to build with our Lite Brix sets. It combines traditional brick building constructions with the magic of lights."
As soon as we know details of UK distributorship, we'll let our visitors know here first.
RECOMMENDED RETAILERS

Amazon
The world's most famous online retailer sells an unparalleled selection of toys.
Buy Lite Brix toys now >>