Bruder Toys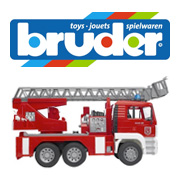 With its beginnings going back to 1926, German toy manufacturer Bruder is the well known maker of superb ranges of large scale toy vehicles. Designed to be played with, although also highly collectable, they reproduce everyday vehicles like dustcarts, fire engines, delivery lorries and cranes and craft them into highly detailed and robust playthings. Bruder toys have a reputation for strength, realism and of course excellent value for money.
The Pro series of Bruder toys is filled with major real life brand vehicles like JCB and Caterpillar, all faithfully reproduced into a series of toys that can be played with indoors or out. Being primarily made of heavy duty injection moulded plastic, they are also weather proof and are so strong they can be handed down to younger children in a family. Low loaders, tractors, bulldozers, dump trucks and container trucks are all subjects that have been recreated by Bruder toys.
A mini series of Bruder toys is also available, as well as the Roadmax selection of chunky vehicles for very young children. Finished in bright colours they are a great introduction to the world of Bruder toys. By investing heavily in the latest manufacturing equipment, Bruder toys benefit from all the latest technological advances in design and materials that ensures a steady flow of new products and innovations.
RECOMMENDED RETAILERS

Amazon
The world's most famous online retailer sells an unparalleled selection of toys.
Buy Bruder toys now >>