Bugaboo Shops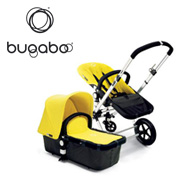 Trendsetters in the practical and forward thinking design of children's pushchairs and strollers, Bugaboo was established in Holland in 1999. Through its design and research department, the company is always seeking innovative and realistic solutions to helping busy parents incorporate a trendy and stylish Bugaboo pushchair into their lives. Proudly saying "Bugaboo means mobility", parents are no longer restricted to flat paths to take their little children on a day out.

With a global network of offices and retailers, Bugaboo pushchairs and strollers are the 'must have' means of transport for millions of parents all over the world. By reducing complexity in design and using strong lightweight materials, the Bugaboo ranges are functional, colourful and desirable. With an exciting range of accessories to customise each Bugaboo pushchair, cool parents can create an almost unique means of transport – there's even a special clip-on iPhone holder to stay in touch!
Quirky names like Cameleon, Buffalo, Donkey and Bee are just four of the Bugaboo pushchairs that form part of the ranges. With equally inspiring colours to choose from like orange, cherry, sand, pink and dark brown, it's no wonder that Bugaboo pushchairs and strollers are so popular with modern parents.
RECOMMENDED RETAILERS

Amazon
The world's most famous online retailer sells an unparalleled selection of toys.
Buy Bugaboo prams and pushchairs now >>