Cesar Dressing Up Costumes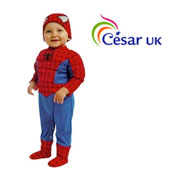 With dressing up parties being such a popular pastime for adults, it's no wonder that kids love to get in on the act too - and Cesar are one of the main companies supplying both kids and adults fancy dress costumes for almost any occasion. By specialising in making dressing up outfits for popular children's characters, kids can pretend to be almost anyone they want.
Little girls can dress up as Barbie Princess or a character from Lazy Town, whereas boys have an even better choice with characters such as Iron Man, Ben 10 and Spiderman. The fun doesn't stop there however, as Cesar also make a range of play environments such as tents and castles for the complete dressing up experience.
Cesar's dressing up clothing can be purchased in many traditional toy stores as well as supermarkets and on plenty of online retailers. As one of the world's largest companies specialising in fancy dress outfits, their customers benefit by an ongoing programme of research into new manufacturing methods and materials to bring the ultimate and realistic experience to their shoppers.
RECOMMENDED RETAILERS

Amazon
The world's most famous online retailer sells an unparalleled selection of toys.
Buy Cesar dressing up costumes now >>