ClayZee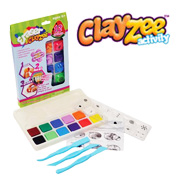 Distributed in the UK by respected toy company Tomy, ClayZee is a whole series of many different modelling sets including Pottery Pals, Fossils Rock, Cork Board, Memories in Stone and Wood Works. The Clayzee compound copies the look of a number of naturally occuring materials like wood, cork, pottery, stone and even fossils.
Every set contains all the items that kids require to make the model, such as paints, templates, string and the modelling compound. ClayZee toys hit toy retailerís shelves and warehouses everywhere in early 2011, and include sets that incorporate age ranges for boys and girls from 7 to 11 years old.
All ClayZee toys dry naturally at room temperature, and parents will be pleased to know that the items are classed as non-messy! Tomy continue to expand the range of Clayzee toys to include more arts & crafts sets.
RECOMMENDED RETAILERS

Amazon
The world's most famous online retailer sells an unparalleled selection of toys.
Buy ClayZee toys now >>