Content&Calm Toys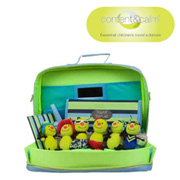 Created in 2009, Content&Calm is an evolving company which designs and produces a 'must have' collection of innovative children's travel products. When the owner Solvej Biddle - a Dragons' Den star - was having trouble getting her young daughter to sleep in strange places, she designed the amazing Cot Canopy. This lightweight solution to creating a blackout zone simply folds around most standard cots and clips into place. A version was also developed for travel cots, and the Cot Canopy Breeze was introduced to fit all sizes of cots, from travel cots to standard cots and cotbeds.
Content&Calm TrayKits are the perfect answer to keep the kids toys and other travel items neatly contained in one place. When strapped to an aircraft pull down tray or the back of a car seat, the play surface has raised sides to stop everything tipping onto the floor. Fill it with toys, notebooks, pens, games or even sweets – everything is safely held in one place. Kids also love the separately purchased travel journal, passport holder and funky luggage tags.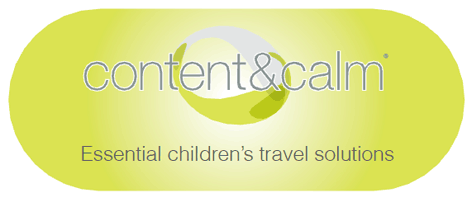 Kids just love the Content&Calm clip on TravelBugs that can be attached to almost anything! These friendly faced characters also have quirky names like Cool Bug, Scuba Bug and Hula Bug – great for collecting. The pushchair or car seat ProtectiShades are perfect for keeping the suns harmful rays off tender young skins. The 'essential travel solutions' from Content&Calm help make parent's lives easier, as well as ensuring that kids enjoy the travelling as much as mum and dad.
RECOMMENDED RETAILERS

Amazon
The world's most famous online retailer sells an unparalleled selection of toys.
Buy Content&Calm travel products now >>