Crafty Kids Toys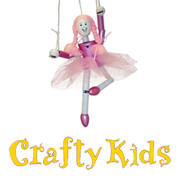 Winners of numerous toy and gift association awards, Crafty Kids make a fantastic selection of puppet and craft kits for children of all ages. Each set is beautifully presented in a recyclable cardboard box and comes complete with all materials to make the puppets, as well as glues, paints, brushes and the all important instruction sheet.
The selection of Crafty Kids animal puppet kits is second to none and includes many popular creatures like cats, dogs, lions and sheep. If kids fancy subject matter a bit more adventurous they may like to make the skeleton, dinosaur, robot or even the scary witch complete with her black dress, cloak and hat!
Constant product development means that new items are constantly being added to the ranges. Crafty Kids is run by Sally Preisig who is a professional puppeteer and was the designer and developer of the full sized costumes for the popular kids Tweenies show. With this pedigree, it's no wonder that her smaller puppet kits are so loved by kids everywhere.
RECOMMENDED RETAILERS

Amazon
The world's most famous online retailer sells an unparalleled selection of toys.
Buy Crafty Kids toys now >>

eBay Toys
The 'World's Online Marketplace' offers an unprecedented selection of toys.
Buy Crafty Kids toys now >>