DeLonghi Toys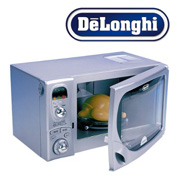 Whilst there are only a few DeLonghi toys on the market, this popular domestic appliance brand is sure to feature in plenty more role play toys.
Casdonís DeLonghi toy microwave oven is a great example of such a product. Looking just like the real thing it even has a working turntable with a supply of pretend food, as well as electronic sounds and flashing LEDís to indicate when the food is cooked! Little boys and girls would love to have a DeLonghi toy cooker as part of their play kitchen that can include fridges, kettles, toasters, washing machines and vacuum cleaners. DeLonghi toys can be found in hundreds of toy shops throughout the UK.
DISTRIBUTORS

RECOMMENDED RETAILERS

Amazon
The world's most famous online retailer sells an unparalleled selection of toys.
Buy DeLonghi toys now >>