Desi Dolls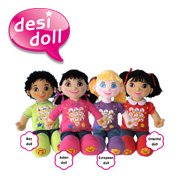 The Desi Doll company was born out of a Muslim mother's desire to teach her child her Urdu language of birth, as well as the English that she already spoke so fluently. The talking Muslim dolls known as Aamino and Tajweed were quickly followed by a series of other dolls into which alternative language cartridges can be placed to speak Arabic, French, Mandarin, Russian and many other foreign languages.
Desi Dolls are a great fun way for kids to learn their mother tongue, or maybe another language in which they are interested. By pressing a series of sensors in the hands, feet and body of the Desi Dolls, children can hear the various phrases firstly in English, and then in the chosen language. Colours and numbers are also included as well as a minimum of five different songs. Continual product development means that new languages are being added on a regular basis.
The world's first ever talking Arabic alphabet puzzle is a superb Desi Doll product that teaches children the correct sounds and pronunciation as they place the letters in the correct places on the board and a non talking version is also available. All Muslim children will love the talking Mosque jigsaw puzzle that includes a recording of the Adhan, the Muslim calling to prayer.
RECOMMENDED RETAILERS

Amazon
The world's most famous online retailer sells an unparalleled selection of toys.
Buy Desi Dolls now >>