Didicar Ride-On Toys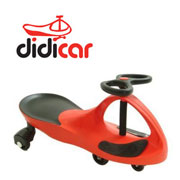 Suitable for any child over 30-months old, Didicar is a wonderful looking ride-on toy that has sold over a million units since the product was first invented in 1999. The Didicar is a triumph of fun over physics. Parents love the fact that, unlike most ride-on toys, Didicars don't require batteries, motors or fuels. Whats more, there aren't even any greasy gears or chains to worry about!
To use the Didcar, all the child needs to do is sit on the toy and turn the wheel quickly from left to right. Learning forward slightly will make the Didicar go faster - and if you're on a flat surface the manufacturers reckon kids should be able to get the car moving at up to 6-miles/hour!
The Didicar range of ride-on toys is a great antidote to the numerous electronic toys and games that are available - and because using more energy makes the Didicar go faster - kids are naturally encouraged to get more excercise without even really realising it!
Didicars come in 5 vibrant colours, and sticker packs can also be bought to customise the vehicles futher. Check out the shops below that sell Didicars online.
RECOMMENDED RETAILERS

Amazon
The world's most famous online retailer sells an unparalleled selection of toys.
Buy Didicar ride-on toys now >>