Dinosaur King Toys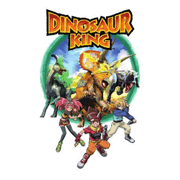 Originating in Japan as a swappable trading card game, Dinosaur King has translated well into a kids TV series showing on CW TV channel. Featuring two sets of characters separated into the D-Team and the Alpha Gang, the Dinosaur King toys and action figures feature all of the main characters like Max Taylor, Zoe Drake and Max Owen. If Alpha Gang characters are more your thing, you can collect figurines of Ursula, Dr.Z, Laura or Ed.
Dinosaur models of Baby Ace, Baby Chomp and Baby Paris as well as playsets and the collectable card reader are all featured in the ranges of Dinosaur King toys that are based on the TV series. Dinosaur King DVDs and books are also available as well as a terrific electronic game for Nintendo DS. Fans of the show and trading cards also need to watch out for Dinosaur King confectionary, novelty gifts, sports goods and inflatable toys.
RECOMMENDED RETAILERS

Amazon
The world's most famous online retailer sells an unparalleled selection of toys.
Buy Dinosaur King toys now >>