Dress Up America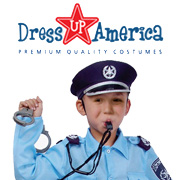 Dress Up America is an independent company that supplies a superb collection of high quality all-year-round dressing up costumes. Their products are sold in better costume stores and the company is a leading supplier for hundreds of e-commerce websites worldwide.
Their ranges feature fancy dress costumes, wigs and exciting accessories in all sizes ranging from infants, boys, girls and teens to men and women. They also sell appealing life size animal mascots and role play outfits that can be used in school plays. Many of their proprietary designs are completely original and are designed in-house.
Dress Up America is always increasing their selections by constantly adding new products to their ranges. Their warehouse is fully stocked throughout the year. Creativeness is combined with excellent knowledge of garments and methods of construction. With expertise in creating quality costumes the business seeks to set the highest industry standard possible.
RECOMMENDED RETAILERS

Amazon
The world's most famous online retailer sells an unparalleled selection of toys.
Buy Dress Up America outfits now >>