Dyson Toys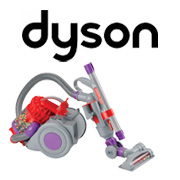 Since its first product launch in 1983, Dyson has become a familiar household name all over the UK. It's forever synonymous with the product that made the company famous - the Dual Cyclone bagless vacuum cleaner. Subsequent inventions (including a super-fast hand dryer and a natty bladeless fan) have secured the company's reputation and made it popular among adults and children alike. The fact that so many of these products are used in households up and down the country helps to explain why so many kids want to get their hands on a toy version of the Dyson vacuums they see their parents use every day.
Casdon, the undeniable experts in the production of role play toys, produce a whole range of pretend Dyson vacuum cleaners. This starts with the aforementioned Dual Cyclone vacuum and also includes models such as the DC14 and DC22. These stunning toy replicas not only look the part but have highly realistic, working vacuum actions that really add to the theatre.

Young boys and girls like nothing more than following mum or dad around the house with their toy Dyson vacuum cleaner – and they can even pretend to do some of the tricky cleaning jobs thanks to detachable wands and other on-board gadgets. Kids particularly seem to like the coloured beads that spin around inside their very own Dyson vacuum.
HERO PRODUCTS

DISTRIBUTORS

RECOMMENDED RETAILERS

Amazon
The world's most famous online retailer sells an unparalleled selection of toys.
Buy Dyson toys now >>