Ecoboo Toys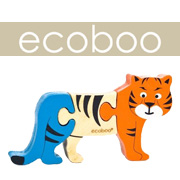 Ecoboo toys are constructed from the fastest growing plant on earth – bamboo! Apart from being ready to cut after only three years growth, bamboo replenishes itself due to its vigorous underground root system. Lighter than oak and harder than maple, bamboo is actually a grass, not wood. The Ecoboo toys are not only bright and fun to play with, but they are also friendly to the environment.
Classic toys like a Noah's ark shape sorter, a pull along building blocks trolley and stacking rings are just a few examples of what can be made with bamboo. Larger items like a training bike and kid's trike are part of the range too. The possibilities are almost endless in manufacturing terms – Ecoboo toys even include jigsaws, a block train set and a clock for learning the time.
Ecoboo also make a hooded towel from bamboo fibre as well as some feeding bibs. With constant research and development Ecoboo are constantly finding new ways of using this miracle material called bamboo. The fibre can even be used to make feeding plates and mugs – a great ecological substitute to the usual melamine.
RECOMMENDED RETAILERS

Amazon
The world's most famous online retailer sells an unparalleled selection of toys.
Buy Ecoboo toys now >>