eeBoo Toys and Games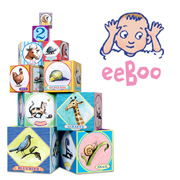 Inspired by artwork that has been produced to illustrate many well known children's books, eeBoo is a company with strong ethical values. Using recycled cardboard as packaging and using vegetable-based inks for printing, eeBoo toys are different from others, and have a special place in a child's toybox. Featuring picture puzzles, activity books, travel games and alphabet cut out letters, all eeBoo toys are a pleasure for children to play with.
The 'Tell Me a Story' series are some of the most popular eeBoo books, and have won many awards for their well thought out strategy for helping to teach kids to read. Even the eeBoo stacking cubes are wonderfully different for the very youngest members of the family – they will delight as much in making a tower as looking at all the pictures printed on every side. What better way to get some kids social interaction than to get them to play games together? Simple eeBoo games are great at stimulating the sensory skills needed by kids in later life.
Most eeBoo toys are now quite widely available in the UK, and eeBoo shops generally offer a great selection of all of their toys, whether in a traditional shop outlet or online. New product introductions ensures that eeBoo are always able to offer their customers something new to buy, and their adult fans will continue to support this special company.
RECOMMENDED RETAILERS

Amazon
The world's most famous online retailer sells an unparalleled selection of toys.
Buy eeBoo toys now >>

Crafts 4 Kids
Online retailer of creative, educational, wooden and activity toys.
Read more about Crafts 4 Kids >>